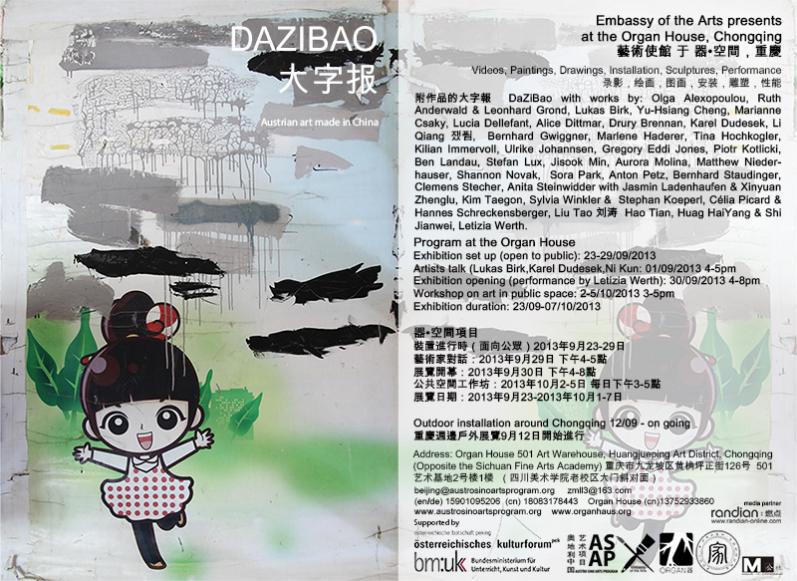 Program at the Organ House
Exhibition setup open to public: from 23/09/2013
Artists talk (Lukas Birk,Karel Dudesek,Ni Kun: 01/09/2013 4-5pm
Exhibition opening (performance by Letizia Werth): 23/09/2013 4-8pm
Workshop on art in public space: 2-5/10/2013 3-5pm
Exhibition duration: 23/09-15/10/2013
Outdoor installations around Chongqing 12/09 - on going
Address: Organ House 501 Art Warehouse, Huangjueping Art District, Chongqing (Opposite the Sichuan Fine Arts Academy) 重庆市九龙坡区黄桷坪正街126号 501艺术基地2号楼1楼 (四川美术学院老校区大门斜对面)
The conceptual idea of the Embassy of Art Exhibition derives from two terms Hongbao (the red envelope) - Dazibao (text banners) and two exhibition formats. Indoor at the Organ House and outdoor in public, both in Chongqing. We subvert Hogbao and Dazibao but keep the original meaning, transforming and stretching them into contemporary form. This represents for the curators the main contextual framework. Both Hogbao and Dazibao have a need to surface in public. The art works in this years exhibition show what impressed the artists most during their stay in China. Their irritations, misinterpretations, their individual critiques, their subjective views, their translations into naivety, their romantic collecting of the exotic, their imported manipulated reservations.
Hongbao - Artist
Ink drawings by Olga Alexopoulou, black and white 16 mm film by Ruth Anderwald + Leonhard Grond, fake ghost of reality, media installation and performance by Allen Au, Lukas Birk, Karel Dudesek, the driving destructive housing market designed by panicking architects as drawings by Lucia Dellefant, history reenacted: rental court yard & and the revanche of Meimei, digital readymades by Karel Dudesek, 5 uncut documentary videos about Christian farmer communites in China by Li Qiang, the patterns of the fashion brand Louis Vuitton wrapping houses bound for demolition, wallpaper by Marlene Haderer, white wall with hundreds of hooks in public space, installation by Killian Immervoll, the individual in search for more wealth, photographs by Gregory Eddi Jones, Artery move a video by Piotr Kotlicki, man and machine in a globalised world by Ben Landau, nature and the artificial a video collage by Stefan Lux, objectification of beauty, crude figures installation from Aurora Molina, the illusionistic copying of villages photographed by Matthew Niederhauser, augmented reality and music by Shannon Novak, breathing support for Chongqing, architecture concept by Hao Tian, Huag HaiYang & Shi Jianwei, existence and integrity face photograph by Sora Park, live and leaving home and abroad, video by Bernhard Staudinger, drawings of sweet rabbits beating up the enemy, drawings by Clemens Stecher, recycled socks become wearable fashion by Steinwidder & photographs by Jasmin Ladenhaufen and video by Xinyuan Zhenglu, communication technics between the inner and outer world by Kim Taegon, explorations of Fantasmagoria Chongqing by Célia Picard & Hannes Schreckensberger, mountains of waist surounding humans, performance photographs by Silvia Winkler & Stephan Koeperl, 0,25, pollution solution for Beijing, architecture concept by ,
Dazibao - Artists
Dazibao's for one self, collages by Lukas Birk, big 3 dimensional letters spread in the city, photographs by Marienne Csaky, transformation of Chinese (risqué) advertisements by Alice Dittmar, Arabic and Chinese letters melted together unreadable in one maze by Drury Brennan, Mao goes to… a long text roll in traditional style, painting by Bernhard Gwiggner, narrative fictions collages by Tina Hochkogler, collapsed advertisements of young cosmetically engineered beauty found hidden behind trees, photograph by Ulrike Johannsen, the shadows of the past are thrown on to the readiness of todays global market, paintings by Anton Petz, portraits of people without a mouth, hearing, seeing and listing but disabled talking by Min Jisook, Liu Tao 刘涛 with physical Dazibao's , paint out of the dirty rivers Yangze and Jialing on white paper, drawing and performance by Letizia Werth, electric fields interruption as projected colour circles, video by Yu - Hsiang Cheng.