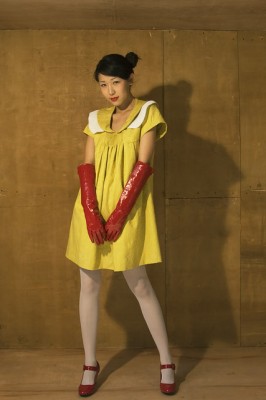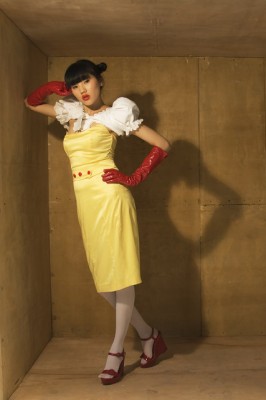 This project starts with a painting of a girl in a dress by the Chinese artist Chen Ke on display at Museum für moderne Kunst (MUMOK) in Vienna. An exact replica of the dress in the painting is created starting with one designer. The first physical dress is passed onto another designer, and then another, in a 'Chinese whisper' process. The dresses are amended, reinterpreted and redesigned according to each designer's individual concept and style. In addition to this 'copy dress,' each label developed further pieces that reflect its own style. Thus, a 20-item collection was created which was first presented as the fashion performance copy alltag gegen copy (copy everyday against copy) at MUMOK. In a second step, the collection was further developed in Beijing and staged and photographed in public spaces with models in a specially developed stage setting (a box). Finally, the photographs shot on that occasion serve as the source material for a new painting by Chen Ke, which she paints exclusively for this project. Thus, Chen Ke marks both the beginning and the end of this project.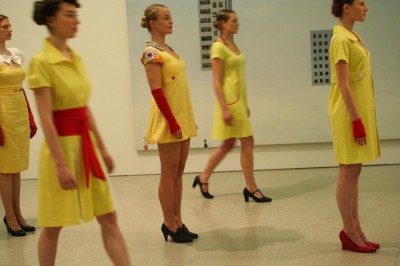 Copy Alltag focused mainly on the different meanings of copying clothing and fashion in Europe and China. It is a fact that in Europe, copying is perhaps not socially acceptable but has nonetheless been a common practice for a long time mainly, but not exclusively, for commercial reasons.
European culture's permanent impetus is characterized by the creation of new things, future mindedness and the celebration of individuality. Yet over the past decades historical styles in the visual arts, music and fashion were time and again rediscovered, brought to the fore and reinterpreted.
It is in this context that it is interesting to look at the Chinese model, where copying or, in other words, the passing down and adherence to tradition, is an important part of cultural identity. In a sense, different models are meeting under different circumstances now.
gegenalltag Designers: unartig (AUS), MANGELWARE (AUS), ulliKo (AUS) , Gina Drewes (AUS), art point (AUS/RU), house of boing (AU/UK), Jasper Garvida (UK), LISA D (GER), Xue Sunfei (CN) and Su BU (CN)
Models: Xiao Wang, Seven/Qi Cai, Yuetong Zhao, Chengjing Sun, Jitong Wang, Tianshu Xing, Shengnan Pang, Luying Fei, Siwen Wang, Jia Gao, Di Wu
Styling: Li Xin, Gong Lin, headQuarters
Project assistant: Gong Lin
Photography: Ladenhaufen, Kapschamedia, Stefanie Honeder