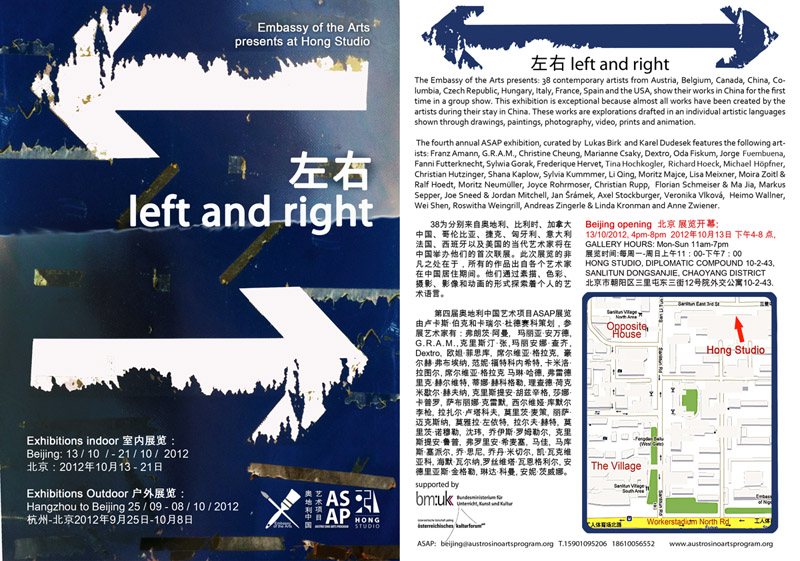 Left as leaving something, left as leftist, art gratuit, art in public space, street art, theft and inspiration, left China, Austro Sino leftists, history left, media left, left Austria, the Tao and Te, way and the virtue, the instant, the official.
Right as right, as right side, right as conservative, Yin and Yang, dichotomy, right to do so, the unofficial, fundamental normative rules.
The works of 38 artists in this years Austro Sino Arts Program exhibition are not to be interpreted as "Western art presented in China". Many of these works were made here in China. The artists made China just as well their home as the place they originate from. This year, ASAP introduces an indoor and outdoor exhibition curated by Lukas Birk and Karel Dudesek supported by the Austrian Federal Ministry of Education, Arts and Culture and the Austrian Cultural Forum Beijing.
Indoor Opening: October 13, 2012, 4 -8pm

Location: Hong Studio, Diplomatic Compound 10-2-43, Sanlitun Dongsanjie, Beijing
Duration: from 13th to 21st of October, 2012

Publication: a 245 page catalogue will be published

Contact: beijing@austrosinoartsprogram.org
Indoor exhibition at Hong Studio, Beijing: In this year's 4th exhibition, "The Embassy of the Arts" shows artists from Austria, Canada, China, Colombia, the Czech Republic, Hungary, Italy, France, Spain and the USA. The works on display have been created by Franz Amann, G.R.A.M., Christine Cheung, Marianne Csaky, Dextro, Oda Fiskum, Jorge Fuembuena, Fanni Futterknecht, Sylwia Gorak, Frederique Hervet, Tina Hochkogler, Richard Hoeck, Michael Höpfner, Christian Hutzinger, Shana Kaplow, Sylvia Kummer, Li Qiang, Camilo Latorre, Moritz Majce, Lisa Meixner, Moira Zoitl & Ralf Hoedt, Moritz Neumüller, Joyce Rohrmoser, Christian Rupp, Florian Schmeiser & Ma Jia, Markus Sepperer, Joe Sneed & Jordan Mitchell, Jan Šrámek, Axel Stockburger, Veronika Vlková, Heimo Wallner, Wei Shen, Roswitha Weingrill, Kathryn Zazenski, Andreas Zingerle & Linda Kronman and Anne Zwiener.
Outdoor exhibition Left/Right works by over 20 artists will be released into public space from Hangzhou to Beijing. Wallpaper on the way—representing the idea of a wider context for public inspiration through art works.
In China, art in public space is hardly known besides the display of history related objects, patriotic sculptures and monuments decorating parks and squares. Contemporary art rarely leaves galleries or museums whereas, in the West, art in public space is a common form of expression. ASAP will select spaces and place sequences of art there. This process will be captured and feed into the virtual space (internet).